Property Name: Pioneer Building
Property Location: 625 N. Milwaukee Street, Milwaukee, WI
Statement of Significance: This four-story, brick building has a concrete and ceramic tile frame. It was constructed in 1865 for the Milwaukee Musical Society, a German immigrant choral and instrumental group. Serving as an Academy of Music and performance venue, the facility's main hall seated approximately 2,000 individuals.
The structure was altered over time, but perhaps most significantly in 1925 when it was converted to office and commercial use and renamed the Pioneer Building. Since then, it has served many businesses, including a hat manufacturer, printer, seamstress and numerous retail concerns.
The building is a contributing element within Milwaukee's East Side Commercial Historic District, which was listed on the National Register of Historic Places in 1986.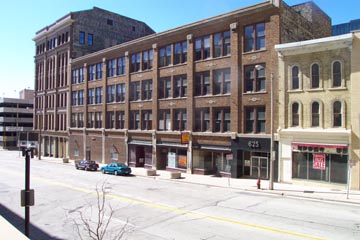 625 N. Milwaukee Street, Milwaukee, WI.
Professional Services Provided: The Pioneer Building will be rehabilitated for commercial use, and the owners wanted to take advantage of the 20% Rehabilitation Tax Credit offered by the federal government. HRL was retained to prepare the credit application and facilitate the review process during which we:
?completed Parts 1and 2 (of the Rehabilitation Tax Credit application, while serving as liaison between the building owner, architect and contractor, and the State Historic Preservation Office. Part 3 will be completed by HRL at an appropriate time.
?consulted with the architects and contractors to ensure that historic, character-defining elements were preserved while adhering to current building codes.
?anticipated State Historic Preservation Office/ National Park Service questions in order to expedite the application process without undue delays.
Project Date: 2000-2001