Project Name: USH 20 (including parts of the Grant, Blue Pole and Antelope Trial highways)
Project Location: South Sioux City to the Nebraska/Wyoming state line
Project Client: Nebraska State Historic Preservation Office.
Project Summary: Much of the USH 20 route across northern Nebraska had previously been part of the Blue Pole, Grant or Antelope Trail highways. It appears, however, that USH 20 was the first roadway designated to cross the entire northern portion of the state, having been named when the federal highway system was identified in 1926. Indeed, USH 20 was part of a national roadway that came to be known as "the last transcontinental." Since its designation, USH 20 has changed much in Nebraska. Parts of the old road have been abandoned, while others portions carry only local traffic. But it remains today, an artifact of Nebraska's transportation history.
Survey Results: Over 150 surveyable examples of roadside architecture, or of the old roadway itself, were identified on the alignments studied for the USH 20 project. All properties were appropriately noted and included in the record and report provided at project conclusion.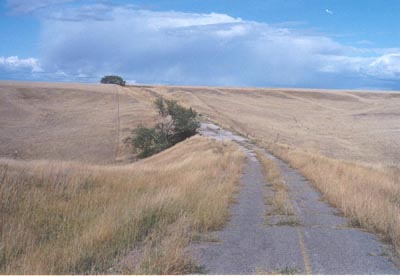 Former USH 20, west of Chadron, Nebraska.
Women's New Orleans Saints Concepts Sport Black Fusion T-Shirt,Green Bay Packers Glitter Shoe Bottle Holder,Men's Detroit Lions Antigua Blue Ice 1/4-Zip Microfleece Pullover Jacket.Women's Seattle Seahawks Fan 12 Pro Line Pink Fashion Jersey,San Francisco 49ers 11" Ceramic Serving Plate.Nike New York Jets Women's Tri-Blend Off Kilter Premium T-Shirt - White,Men's Kansas City Chiefs Klew Red/Camo Big Logo Shorts.Men's Chicago Bears G-III Sports by Carl Banks Navy Instant Replay Micro-Fleece Jacket,Mens New Orleans Saints Kenny Stills Nike Black Game Jersey,Men's New York Jets Design Your Own Long Sleeve T-Shirt- Cheap Houston Texans Jerseys Outlet.Womens New Orleans Saints Black Pylon Halter Top,Mens Green Bay Packers Majestic Green Big and Tall Heart & Soul III T-Shirt,Nike Dallas Cowboys Women's Helmet Tri-Blend Tank Top- Gray/Navy Blue Houston Texans Womens Jersey.Men's New York Giants Landon Collins Nike Blue Game Jersey,Women's New England Patriots Antigua Navy Blue Social Hooded Long Sleeve T-Shirt Houston Texans Jersey For Sale.Jacksonville Jaguars 12ˇ± x 12ˇ± Metallic Logo Decal,Arizona Cardinals Tervis Tumbler 16oz Cheap Houston Texans Jersey. Splatter Tumbler with Lid.New York Jets Metal Helmet Domed Auto Emblem,Denver Broncos Critical Victory VII Fleece Pants - Ash

Project Date: 2001-2002