Property Name: Short Street/Shawtown Bridge
Property Location: Short Street over the Chippewa River, Eau Claire, WI
Statement of Significance: Metal truss bridges are largely a product of post-Civil War industrialization. Early Wisconsin bridges were likely flimsy, crude affairs. The structures, which were susceptible to washouts and damage by ice floes, needed to be replaced often. Although the initial costs were greater, truss bridge were customarily more durable, low-maintenance structures.
The genius of truss bridge design was its use of the triangle to combine short sections of material into a longer, rigid framework. The truss idea facilitated bridges that were simple to design and erect, but which had strength and longevity.
The Short Street Bridge was a good example of a Parker Through Truss. It was eligible for the National Register under Criterion C. The bridge's 1924 construction date and three spans made it the oldest, and one of the longest remaining, bridges of the type in Wisconsin when it was evaluated in 1995. With its historical integrity largely intact, the Short Street Bridge was indeed an increasingly rare component of Wisconsin's historic landscape.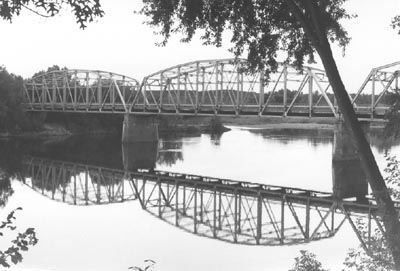 The former three-span, Short Street truss bridge.
Public Interpretation: To suitably document the existence of the structure, and interpret its significance for the public, a brochure and two-panel museum display were prepared and then given to the City of Eau Claire. Thus the memory of the structure, and the role it played in promoting the community's settlement, was preserved.
Public displays and interpretive materials are an increasingly frequent method of mitigating the loss of significant structures. To that end, HRL has prepared educational displays for a variety of structure-types including bridges, grain elevators, park buildings and historic districts.
Project Date: 1995-1997